Charlotte radiates an energy that you'll feel soon after arriving. Civic pride and can-do spirit pervade the city.
New residential towers and construction cranes populate Charlotte's Uptown area, both fueled by continued growth in the banking industry which has made Charlotte one of its global hubs. This momentum continues a 25-year trend started by Charlotte receiving an NBA expansion team in 1998, a landmark event which placed the Queen City on the national map.
Charlotte's arts community has progressed alongside.
A quick overnight trip allows for sampling the city's varied cultural offerings and feeling the energy for yourself.
Make the Kimpton Tryon Park Hotel your headquarters. Perfectly situated within easy walking distance from the city's top arts attractions, the hotel was opened in November of 2017, part of a $330 million project which also includes asset manager Barings' corporate headquarters.
Begin your stay on a Friday night with a room facing BB&T Ballpark, home to minor league baseball's Charlotte Knights. If the home team is in town, you'll be treated to a late night fireworks show.
The Mint Museum remains the grande dame of the city's cultural community. It now operates as two separate institutions.
Mint Museum Uptown opened its doors in October of 2010, emphasizing an internationally recognized craft and design collection along with noteworthy holdings of American, contemporary and European art.
Examples of 20th-century American paintings are where the museum's offerings soar. Admirably, female and African-American artists are completely integrated into the collection, a rarity for art museums of any size or stature in the United States. Among the black artists highlighted is Romare Bearden, a Charlotte native and godfather of the city's art scene.
Another reason to start your 36-hour art march on a Friday is to take advantage of the Mint Museum Uptown's late night hours until 9:00 p.m.
Mint Museum Randolph, opened in 1936 as the state's first art museum and located in the original branch of the United States Mint, features art of the ancient Americas, ceramics and decorative arts, European and African art and fashion, but requires a car ride from Uptown to experience. Save it for another visit.
Across the street from the Mint Museum Uptown you'll find the Bechtler Museum of Modern Art, unmistakable for its contemporary, terra cotta architecture and 17-foot-tall mirrored sculpture Firebird out front, lovingly referred to by locals as the "Disco Chicken."
The Bechtler presents the personal art collection of Andreas Bechtler, which he donated to the city in 2006. The collection was begun by his parents in Zurich, Switzerland in the 1950s and includes important mid-20th-century modern works from Picasso, Juan Miro, Paul Klee, Fernand Leger and numerous other European artists lesser-known to American audiences.
The collection's emphasis on mid-century artists from Europe, many who are lightly represented by American institutions focused on collecting American artists during this period, makes the art on display not only significant for the Carolina's, but for the nation as well.
Lunch and dinner can be enjoyed steps away at either La Belle Helen or Angeline's, both located in the Barings building that houses the Kimpton.
Practice your French with the bilingual staff at La Belle Helene while enjoying dishes fit for a Francophile such as Croque Madame, quiche lorrain or poulet roti (rotisserie chicken).
Angeline's specializes in Italian and its eggplant parmesan should not be missed. Start with an appetizer of whipped ricotta served on sourdough with lavender honey and pistachio. Whiskey fans will enjoy sampling a Rua single malt, distilled, aged and bottled locally.
The Mint Museum Uptown and Bechtler are two halves of the Levine Center for the Arts which also includes the neighboring Harvey B. Gantt Center for African-American Arts + Culture and the Knight Theater. The four institutions came together as a vision for a new cultural campus in the city, which began forming in 2002.
At the Gantt Center, stop in on Question Bridge: Black Males, a video exhibit allowing visitors to eavesdrop on personal and candid conversations amongst black males about the issues affecting them.
Begin day number two around the corner from the entrance to the Kimpton at Famous Toastery for breakfast. Fueled up for another big day, point yourself down Tryon Street in the direction of the McColl Center for the Art and Innovation, making sure to stop at numerous points of interest along the way, including Independence Square.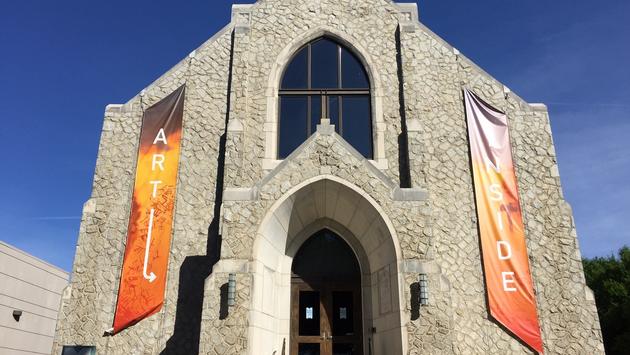 Another must-see is the main branch of the Charlotte-Mecklenburg public library where you'll find Bearden's intricately detailed mosaic mural Before Dawn.
Enormous murals from another North Carolina artist, Ben Long, inside the 60-story Bank of America Corporate Center offices are not to be missed. The construction of Bank of America's Corporate Center in 1992, like the arrival of the Hornets four years prior and the arrival of the NFL's Carolina Panthers three years later, acted as another significant accelerator to the city's growth.
The influence of Bank of America and its former Chairman and CEO Hugh McColl on the Charlotte arts community cannot be overemphasized.
McColl's mother and sister were both artists and he's been quoted as saying, "active support of the arts can make the difference between an average community and a great one."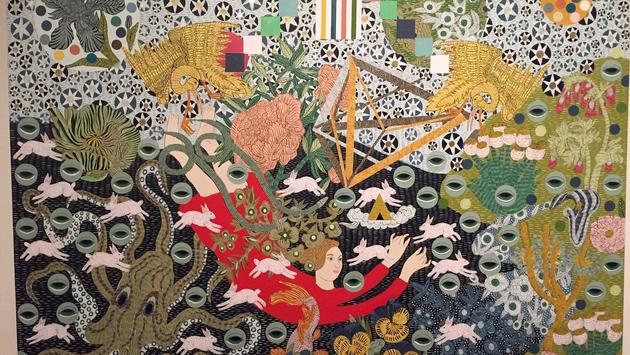 The collection of contemporary glass in the Sonia and Isaac Luski Gallery, located on the first floor of the Foundation for the Carolinas headquarters, proves a surprising treat.
By this time, perhaps the various arts oasis to discover around Charlotte should no longer be surprising as they appear so regularly. This is obviously a community which has made a concerted effort to integrate itself with artwork.
Another example is the McColl Center, recognized among the leading artist residency programs in the United States. The center is open to the public where work from the residing artists and alumni can be purchased and lucky visitors see residents at work.
Finish off your stay by gallery hopping, the only item on your itinerary for which you'll need a car.
Are you interested in traveling here for work or vacation? Travel agents have access to huge savings you'd never find booking on your own. Enter your email below and one of our expert travel agents will be happy to help you save money!
Begin at pint-sized SOCO Gallery which features an exhibit highlighting one contemporary artist at a time. Along with a bookstore and the adjoining Not Just Coffee and men's retailer TABOR, the breezy, informal atmosphere—not to mention live DJ and free beer on Saturdays—creates the feeling of a lively, grown-up house party, not a snooty gallery.
Jerald Melberg Gallery, which offers work by Bearden for sale and the good eats of Eddie's Place Restaurant right next door, along with the Goodyear Arts collective, Southern Tiger collective and New Gallery of Modern Art back by the Bechtler are worth your time as well.
You won't see everything the Charlotte arts community has to offer in just 36 hours, but you will see enough to make you look forward to returning for more.
You can read more of the news on source