Some places are just meant to be slow, which is a concept that can be tough to understand in our fast-paced world. When I'm traveling with my kids, I typically want to get as much out of it as I can and check everything off my list.
But, some places lend themselves more to the quiet moments than the highlight reel. They whisper in our ear to slow down, sip our coffee, watch the waves hit the shore and savor that ice cream with our kids.
New Smyrna Beach is one of those places. It may not be the most popular tourist destination in Florida, but that's part of its charm. This little beach town sitting just south of Daytona Beach might be the exact spot your family is looking for.
Start With the Beach
Like most coastal cities in Florida, the beach is the main attraction. New Smyrna Beach is known for having excellent waves for surfing. My kids and I are definitely not surfers, but we enjoyed watching other people catch their waves while we worked on building some intricate sand castles.
Smyrna Dunes Park is a great spot for families. Be warned, though: you should probably bring a wagon or stroller if you have young kids. You'll have to walk quite a ways over the elevated boardwalks to reach the beach from the parking lot. However, the scenery is well worth the extra walking time since Smyrna Dunes Park has five different ecosystems to show off.
Other than Smyrna Dunes Park, there are 17 miles of coastline in New Smyrna Beach to choose from. Like Daytona Beach, people can pay a fee to drive their cars on the beach. If that's your style, you can simply drive down Flagler Avenue and straight onto the beach for $20 a day.
If you want to avoid the traffic on the beach, check out Bethune Beach, where no cars are allowed. For a quiet and relaxing beach day, Canaveral National Seashore is the perfect spot.
Stroll Flagler Avenue
One of our favorite memories from our time in New Smyrna Beach was strolling along Flagler Avenue, the main thoroughfare that stretches from the ocean to the Intracoastal Waterway. We shared a smoothie from a juice bar and wandered in and out of nautical-themed boutiques.
Flagler Avenue is a great place to get a feel for the community in New Smyrna Beach. Everyone is out and about, enjoying the salty air, doing some shopping and grabbing a bite to eat.
Discover Some Ruins
Learning about the history of a place can make your getaway more meaningful, and that's why we decided to take a break from the beach for a short trip to the Sugar Mill Ruins.
The park where the ruins are located is well hidden with little signage. It took a few attempts and U-turns to locate the entrance, which turned out to be just an old dirt road. When we finally arrived, we were pleased to find a serene spot full of history just waiting to be discovered.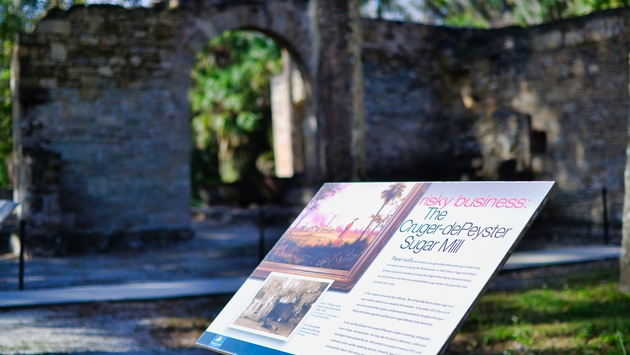 At first, we were the only ones there, and my kids and I slowly made our way around the crumbling coquina walls and sugar processing equipment. We read the signs carefully, learning about how sugar was made there until the mill was burned down during the Second Seminole War in 1835. It was a cool piece of Florida history and a nice change of pace from the beach.
Play at the Park
Riverside Park overlooking the Indian River is a beautiful place to spend a few hours with your family. Complete with a pirate ship, lighthouse and other sea-themed structures, my kids could have played all day on the playground at Manatee All Children's Playground. The play area is a dream for parents of young children, as a fence encloses it and there are playgrounds suited for all ages and lots of seating for adults.
If you can tear your kids away from the slides and swings, there are walking paths and a great boardwalk and fishing pier to walk along and enjoy the view. Stop in the gazebo for a picnic lunch or just to take a break from the sun.
Check out Canal Street
If Flagler Avenue brings good vibes and the cool factor, then Canal Street brings art and culture. Its history dates back to the very first settlers of New Smyrna Beach, and it continues to thrive as a gathering place for the community.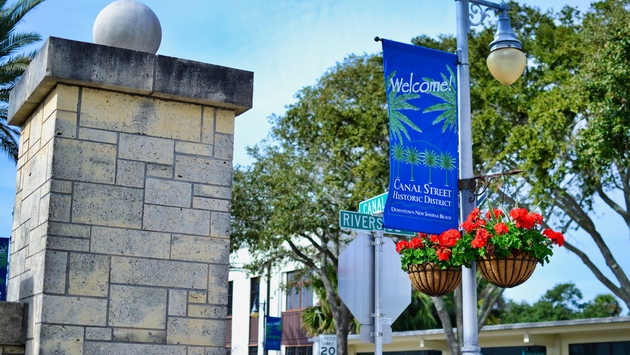 This is where you'll see New Smyrna's art scene come out to play, with multiple galleries lining the street as well as an artist's workshop. If your children are young and don't yet appreciate fine art, there are plenty of other shops and restaurants to enjoy as a family.
Just a block or two away from Canal Street is Old Fort Park where you'll find some more ruins believed to be the remnants of the Turnbull mansion. There are no playgrounds at this park, but there's plenty of space to walk or run to stretch your legs and a beautiful view of the Indian River.
Visit Ponce Inlet
If you're willing to drive a bit, you can explore Ponce Inlet, which houses the tallest lighthouse in Florida as well as the Marine Science Center. You could spend hours here climbing the 203 steps, taking in the views and touring the museum and the old lighthouse keeper's dwelling.
The Marine Science Center is a great spot for kids to learn about Florida's ecology and sea turtle rehabilitation. The center has a touch tank and nature trails outside for families to explore.
The Perfect Beach Getaway
New Smyrna Beach has no theme parks or flashy attractions, which is part of its charm. It's your quintessential Florida beach town with plenty of character and history.
So often I try to make every second of travel count with new experiences and exciting attractions, but sometimes all you need is some quality family time in a beautiful location. And that is precisely what New Smyrna Beach brings to the table as a beach getaway destination.
You can read more of the news on source