Haven to a fascinating blend of eclectic cultures, grassroots politics and infectiously funky vibes, Austin is one amazing destination. Despite being the capital of Texas, home to a major university, and one of the fastest growing U.S. cities, Austin somehow manages to retain its small-town feel.
It's a delightful mix of hippies, honky-tonkers, hipsters, tech experts, filmmakers and quirky characters. Yet somehow, it all works. People are warm, friendly and welcoming.
A food truck owner said it's because "we live in a place we love." And after our first visit here, we get it.
Food and Craft Beer Scene
When it comes to good eats, Austin is the place. From world-renowned chefs to taco joints and food trucks, the city is a foodie adventurer's paradise. Thanks to its entrepreneurial spirit of creative culinary innovation and Texas-size ambition, Austin really delivers.
A great way to navigate the diverse food scene is to check out the myriad of Austin's artfully decked-out food trucks. It's hard to imagine that a city this size actually has over 1,000 mobile restaurants. From donuts to vegan bites and barbeque to Peruvian delights, whatever food you're craving, you'll find it here somewhere.
A great place for bangers and beer sits right in the heart of Austin's entertainment district. Ready for a night on the town, we headed to Banger's Sausage House and Beer Garden.
Sporting over 100 craft beers from the largest tap wall in Austin, choosing one of Banger's best is a tough choice. But the Guadalupe Texas Honey Ale, brewed locally in the Hill Country, hit the spot—sweet, smooth and refreshing.
Thirty types of sausage, from chicken, duck, boar, antelope and even veggie, are made daily from scratch. My Jalapeño Cheddar Bratwurst with just the right amount of heat literally burst with flavor.
But it's not just the food and beer that packs the house. Patrons are entertained nightly by its live country bands on a massive outdoor lighted patio.
Music of Austin
Music is the heart and soul of Austin. The city rightfully earned the slogan Live Musical Capital of the World in 1991, when music critics discovered Austin had more live music performances per capita than anywhere else in the nation.
From blues to indie rock, country to jazz and more, Austin's musicians really get into the groove on stage. Legendary artists like Willie Nelson, Janis Joplin and Stevie Ray Vaughan all got their start here.
Ask any local and they'll tell you the Continental Club is the quintessential granddaddy of Austin's music venues. The club's been rockin' Austin since 1955, with everything from country, rock 'n roll and rhythm-and-blues to jazz.
Eclectic Museums and Creative Art Scene
Austin's official motto is "Keep Austin Weird," and they wear it like a badge of honor. So, it came of no surprise that in a city with scores of museums, there's one aptly-named Museum of the Weird. Shrunken heads, Egyptian mummies, Cyclopean pigs and other freaks of nature can all be found here. It's like the carnival never left town.
A 35-foot bronze sculpture in the shape of a Texas Lone Star fronts the Bob Bullock Texas State History Museum, where visitors can explore the dynamic and continuously unfolding history of Texas.
Austin is ablaze with creativity and art is everywhere. It's built into the city's architecture, like the Jenga Tower, Austin's tallest building resembling its namesake game. Colorful murals are peppered on walls throughout the town and every possible genre of art is expressed by its sidewalk artists and in its galleries.
Seasonal festivals and exhibitions are hosted in its downtown and nearby Hill Country throughout the year.
Texas Longhorns Football
Hook 'em 'Horns! Austin is not only a college town, but the University of Texas Austin (UT as the locals call it) has a darn good football team. Austin adores its Texas Longhorns and on game days, the town is a sea of burnt orange and white, the official school colors.
Presidential Library
Located on the picturesque campus of UT Austin, the LBJ Presidential Library honors the life and times of Lyndon B. Johnson, one of our nation's most fascinating presidents, and the era of his administration—the turbulent 1960s.
Though LBJ is most often remembered for his engagement in the controversial Vietnam War, the library's exhibits remind us of his many historically significant presidential accomplishments—most notably the Civil Rights Act, Social Justice Reform and War on Poverty. Lady Bird Johnson's contribution to preservation and environmental efforts are celebrated there as well.
Outdoor Adventures
Austin is known for beautiful sunshine-filled days and bluebird skies. The city boasts 205 parks, 14 nature preserves and more than 50 miles of hiking and biking trails. There are rivers for kayaking, a spring-fed swimming hole at Barton Springs Pool and even a grotto with a 45-foot waterfall at Hamilton Pool.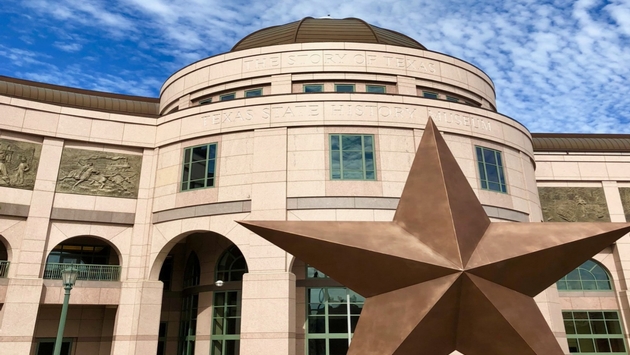 But the star aquatic feature has to be the magnificent Lake Travis. The lake is actually part of the Colorado River that was dammed into a reservoir in the 1940s.
The 65-mile stretch of fresh water, with close to 20 beaches, is popular with fisherman, boaters, scuba divers, campers, and picnickers. Water sports enthusiasts can water-ski, jet-ski, wakeboard, or parasail.
Historic Sixth Street
Hands-down, Austin's most famous boulevard is Sixth Street. Home to the urban nightlife scene, fascinating bars and restaurants, it's also one of Austin's most historic districts.
The Driskill, a Romanesque-style structure completed in 1886, is Austin's oldest operating hotel and a landmark of Texas hospitality. Even for those not staying there, just stepping inside to witness its grand columned lobby with marble floors and stain-glassed dome is a feast for the eyes.
Maggie Mae's, located in a beautifully restored 1850 building, is Sixth Street's oldest bar and the epitome of everything Austin. An authentic New Orleans-style courtyard features a staircase extending to a rooftop offering spectacular views of downtown Austin. And of course, again, there's live music.
Austin's Bat Bridge
Austin has bats. Lots of bats. From March to October, hundreds of thousands of these flying mammals make this bridge a massive maternity colony. And each night, 20 minutes before sundown, swarms of these Mexican free-tailed bats emerge from narrow crevices in the underside of the Ann W. Richards Congress Avenue Bridge and take to the sky.
Locals say this spectacle is best viewed from the water on an evening kayak trip. That's our plan for our next visit.
"We like to do things differently here in Austin," exclaimed a gentleman seated next to me on the plane ride home. One visit to Austin will convince you there's no doubt about that.
Austin had been on our travel radar for a long time. Now we're wondering why we waited so long to get there.
You can read more of the news on source