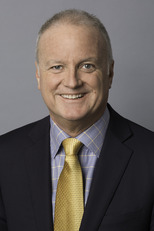 VANCOUVER — Cathay Pacific Airways has promoted Ross Cronin to Director, Sales & Marketing Canada, with overall responsibility for the airline's passenger sales & marketing communication strategies in Canada.
A veteran of the aviation industry, Cronin has spent over 22 years with Cathay Pacific Airways, most recently as Sales Manager, Eastern & Central Canada overseeing passenger sales for the airline in this important region.
He joined Cathay Pacific Airways in Vancouver early in 1994 and, later that year, transferred to the management position in Toronto. Prior to this he worked in various roles with Air Canada across Canada.
He will relocate to the airline's Canadian regional office in Vancouver.
"I'm delighted to have the opportunity to lead our team of experienced and passionate commercial professionals," says Cronin. "Canada has long been an important market for Cathay Pacific and, with our Vancouver to Hong Kong service growing to 17 flights weekly in 2017, it's an exciting time to take up this role."
Evidence of the latest threat to the Canadian retail travel sector is probably right in your own wallet. It's your Costco membership card.
You can read more of the news on source