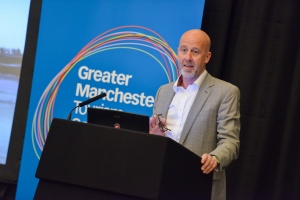 Tourism and hospitality professionals from across the region will come together next month for the second annual Greater Manchester Tourism Conference organised by Marketing Manchester, part of the Growth Company.
The event will take place on Wednesday October 11th in the Pavilion at Emirates Old Trafford and will feature a busy and stimulating programme including thought-provoking talks, interviews and presentations from high-profile speakers, business insights and a look at future travel trends.
Aimed at all businesses and individuals working within the visitor economy the day will be compered by Nick Brooks-Sykes, director of tourism at Marketing Manchester, and will also include an opportunity to have a look around the newly opened 150 bedroom Hilton Garden Inn Emirates Old Trafford.
Confirmed speakers so far include Steve Ridgway, the recently appointed chair of VisitBritain, who will be leading on the tourism sector deal with national government.
On to appear are Stephany van Willigenburg, head of travel at Google UK, who will be revealing what can Google tells us about visitors to Manchester, and Sharon Orrell, head of Visit England Research who will outline key trends for delegates to be aware of within domestic tourism.
Event sponsor Expedia, led by Nicola Cunningham, area manager for north and central England, and Cassandra Johnson of Marketing Manchester, will offer invaluable insights into Greater Manchester's performance as a tourist destination and will also deliver a networking drinks reception at the end of the event.
Speaking about the conference, Sheona Southern commented: "The first Greater Manchester Tourism Conference held in September 2016 proved to be one of the highlights of the year for Marketing Manchester members and this year's event promises to be equally compelling and a not-to-be-missed event for anyone working within the visitor economy across Greater Manchester and the north of England.
"Feedback last year was overwhelmingly positive but we have listened carefully and made some small amends that will ensure a highly informative, participative and business focused day.
"We will have a greater variety of speakers, a bigger focus on the future direction of Greater Manchester's visitor economy as well as plenty of additional networking opportunities throughout."
Around 180 delegates are expected to attend the Greater Manchester Tourism Conference 2017 including high-level decision makers, general managers and chief executives from across the north of England.
You can read more of the news on source