New Orleans is always up for a good party, and Hancock Whitney White Linen Night has become one of its best. This year marks the 25th Anniversary of White Linen Night, which takes place Saturday, August 3, from 5:30 PM to midnight in the Arts District along Julia Street.
The event serves as the neighborhood's Contemporary Arts Center's signature fundraiser featuring more than 20 of New Orleans' finest galleries and arts institutions, including the CAC, The Ogden Museum of Southern Art and the National World War II Museum.
"(White Linen Night) reinvigorates people here after a long hot summer, so we reconnect with a lot of familiar faces as well as many new faces who are inspired by the theme to come out and be part of the happening," Jill A. McGaughey, partner, Mac-Gryder Gallery, said. "The galleries put on some of their best shows of the year for the large crowds."
The idea was launched in 1994 by gallery owners as a way to attract more people to the burgeoning warehouse arts district during the slow summer month of August. More than 7,000 people attended the inaugural event with over 40,000 participating last year.
Steve Martin, owner of Steve Martin studio and gallery, has been there from the beginning.
"Warehouses and cheap, by-the-hour-motels," Martin recalls about what the then-Warehouse District, which has been renamed the Arts District, looked like. "I was called an urban pioneer by the local newspaper because I purchased a property in the district in which to live in 1994."
At that time, what is now among New Orleans' most desirable real estate, was among its least.
"In the 1980s and early 1990s this was skid row," McGaughey said. "The area is a model of urban renewal which often starts with artists and galleries moving into a derelict neighborhood and spurring a transformation."
The biggest crowds at this year's Hancock Whitney White Linen Night will be found around the Julia Street Block party, which is free and open to the public, between 5:30 PM – 9:30 PM. This is the heart of Arts District with galleries lining both sides of the street.
Take a break from the heat and crowds in CAC's Cool Down Lounge at the Green Room at Auction House Market. This art-inspired VIP experience, steps away from the hustle and bustle of Julia Street, includes two drinks, light bites, seating, air conditioning, restrooms and complimentary tickets to Hancock Whitney White Linen, After Dark, the official after-party at the CAC.
This is New Orleans. Of course there's an after-party.
From 8:00 PM – midnight at the CAC's Camp Street Warehouse you'll find a live DJ and drag experience you won't soon forget.
"With free-owing libations and New Orleans' celebratory attitude, anything can and usually does happen," Martin said.
Pace your celebrating to avoid seeing double before visiting the nearby CAC and Ogden Museum of Southern Art.
"I think the two art institutions in the District have really helped to grow the event by hosting juried group exhibitions each White Linen Night that feature works by regional artists," Emily Siekkinen, Director of Octavia Art Gallery, said. "The Ogden hosts the Louisiana Contemporary, this year juried by David Breslin of the Whitney Museum, and the Contemporary Arts Center will host an exhibition titled Identity Measures, curated by Jordan Amirkhani of American University."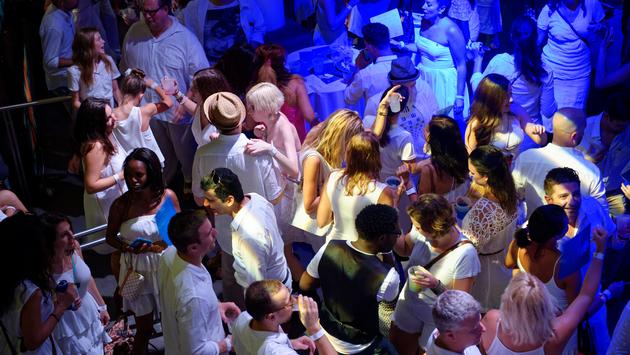 Identity Measures explores identity as complex entanglements of lived experiences based on race, gender, ability, sexuality, and class. Admission to this show is also free and open to the public from 5:30 PM – 9:30 PM.
When visiting the Ogden, be sure to save time for admiring the work of Mississippi artist Dusti Bongé. Its exhibition of her work, Piercing the Inner Wall, makes an airtight case for Bongé's inclusion among the greats of Abstract Expressionism alongside Jackson Pollock, Willem de Koonig, Helen Frankenthaler and Mark Rothko.
Are you interested in traveling here for work or vacation? Travel agents have access to huge savings you'd never find booking on your own. Enter your email below and one of our expert travel agents will be happy to help you save money!
You will also find great art where you don't expect to find it and that's across the street from the Ogden at the National World War II Museum. In Memory of What I Cannot Say: The Art of Guy de Montlaur showcases paintings from the French fine-art painter who survived hand-to-hand combat against the Nazis as a member of the French army and the D-Day beaches with the Free French Commandos.
Energetic, vivid, sometimes chaotic and violent, Montlaur's abstractions combine the horror of war and the beauty of art.
All these festivities can be found within easy walking distance of the Cambria Hotel which makes a perfect headquarters for your White Linen Party weekend. Take advantage of the property's special Art District rate.
Visiting the galleries along Julia Street and talking to their owners, it's clear how much pride they have in what the neighborhood has become.
"The area has blossomed post (Hurricane) Katrina (2005) with world-class restaurants, boutique hotels, grocery stores—it's a really great neighborhood with tons of amenities, a far cry from where it started as a bunch of old warehouses," Christy S. Wood Co-Owner and Gallery Director at LeMieux Galleries said.
"We are truly a unique world-class fine art district worth spending an extra day in New Orleans to experience," Martin adds.
An extra day? Why not an extra week?
"The Saturday following White Linen Night, the French Quarter hosts an event called Dirty Linen Night where you can wear your dirty whites from the prior week and enjoy another evening looking at art," Siekkinen reminds.
You can read more of the news on source