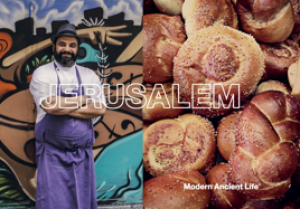 Today The Jerusalem Development Authority has announced a marketing collaboration with Thomas Cook, promoting the destination across Europe.
The partnership aims to bring about global exposure to the historical city of Jerusalem, and increase visitation by showcasing the city's many delights across Thomas Cook's multi-channel media offering.
The tour operator has enlisted its agency 1841 to lead the campaign's creative and content strategy.
Modern Ancient Life will be a fully integrated, multi-market campaign that promotes a modern and vibrant city emerging from its ancient and ever-present history.
Mixologists, bakers, artists, techies and restaurateurs, all of whom are creating a modern life within a truly ancient city, will feature in the campaign through inspiring photographic and video content shot by 1841.
Ilanit Melchior, tourism director of The Jerusalem Development Authority, said: "We are delighted to launch our new partnership with Thomas Cook, one of the leading leisure tourism companies in the world.
"With its global reach we will be able to reach tens of thousands of potential travellers who are looking for their next exciting and fascinating city break, and who will now see Jerusalem as a vibrant destination one must experience.
"We look forward to welcoming Thomas Cook customers to our unique city."
The campaign will be activated across Thomas Cook's online, social, direct and in store channels targeting affluent 25-plus ABC1 adults travelling either as couples or in groups.
In addition, Modern Ancient Life will have a significant trade market presence, educating agents in the capital's cuisine, art, culture and nightlife as well as the more traditional historical and religious associations.
Stuart Adamson, director of Thomas Cook media and partnerships group, added: "We are extremely excited to launch a new partnership with The Jerusalem Development Authority.
"Through a fully integrated, multi-channel campaign we will drive both destination awareness and visitation by inspiring holidaymakers and agents across Europe.
"By developing a campaign creative that captures the city's rich history but also its very vibrant and modern edge, we are looking forward to showing Jerusalem in an entirely new light."
You can read more of the news on source