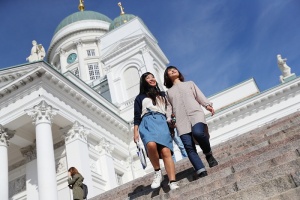 Tencent, Helsinki and World Tourism Cities Federation have signed a tripartite cooperation agreement, according to which Helsinki will serve as an intelligent tourism model for China outbound tourism.
The agreement was signed at the WTCF Los Angeles Fragrant Hills Tourism Summit 2017.
This cooperation combines Helsinki as an intelligent tourist destination with the media influence, product services and advanced technologies of Tencent.
The cooperation will utilise network broadcasts, a WeChat official account, mini programmes, AR techniques, panoramic maps, big data and other related product services to provide convenient and diversified services for Chinese travellers.
Users will be able to experience the urban culture of Helsinki through network broadcasts and other mobile product services, while a Helsinki mini application designed especially for travellers will be made available to almost one billion Tencent users.
The mini programme will allow Tencent users to access important information about Helsinki and local services, as well as pictures, videos, maps, intelligent translations, one-touch SOS function and even online tax returns.
Helsinki will also launch its own WeChat public account by the end of this year.
"Cooperation with Tencent and WTCF is a huge opportunity for Helsinki to be seen on the biggest digital platform in China.
"We are very excited about this project. Our cooperation with the world's top internet company Tencent, using its media promotion and product platform to display various aspects of Helsinki and serve Chinese outbound tourists, represents a great advance in innovation.
"Helsinki is the shortest and fastest route between Asia and Europe, which has helped Helsinki become the leading long-haul airport in Northern Europe.
"Launching this program will help make Helsinki as a destination and its attractions more accessible to Chinese travellers," said Laura Aalto, chief executive, Helsinki Marketing.
Helsinki has become increasingly popular among Chinese tourists in recent years.
The number of registered overnight stays by Chinese travellers in Helsinki has more than doubled in the past five years, reaching almost 90,000 in 2016.
During the first six months of 2017 alone, the number of overnight stays of Chinese visitors increased 43.6 per cent compared to the same period in 2016.
You can read more of the news on source