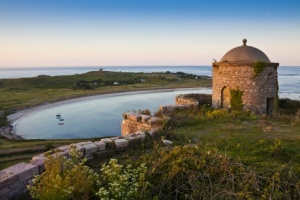 Since the release of The Guernsey Literary and Potato Peel Pie Society in UK cinemas last month, VisitGuernsey has recorded a significant increase in holiday bookings, as tourists plan visits to the island that inspired the film.
In the immediate five-days after the film's launch the tourist board website saw a 130 per cent uplift in traffic.
Key tour operator partners have also been really positive with C. I. Travel Group reporting 55 per cent increase in bookings to Guernsey in April compared to 2017.
Leading online agent Opodo has also revealed that Guernsey was its sixth biggest growth destination for the early May Bank Holiday weekend, with a 155 per cent yer-on-year increase in passenger growth.
This is even more remarkable given the other destinations featured – Guernsey follows the big-hitters Boston, Chicago, New York, Cancun and LA.
Directed by Mike Newell (Four Weddings and a Funeral) and starring Lily James (Downton Abbey, Darkest Hour), The Guernsey Literary and Potato Peel Pie Society is enjoying great success at the UK box office, where it has already grossed £5 million and continues to delight audiences in cinemas nationwide.
VisitGuernsey has capitalised on the film launch by securing an incremental £330,000 of investment devoted to maximising the film's power to drive interest and tourism growth to Guernsey.
Mike Hopkins, director of marketing and tourism, VisitGuernsey said: "As well as bringing the island to new audiences the film is reigniting interest from those who have perhaps not visited Guernsey for a while and are reminded by the film of the genuine warmth of its residents and unique charm of the island.
"We have worked hard to maximise the opportunity the film presents with incremental investment focused on trade relations campaigns, high-profile affinity marketing and a joint campaign with StudioCanal.
"We are delighted to see such initial positive response and impact and will be continuing to work hard to maintain this momentum."
You can read more of the news on source