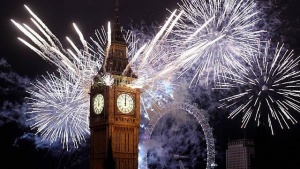 The first batch of tickets for London's New Year's Eve fireworks have gone on sale.
This year's stunning spectacle will once again be focused around the Coca-Cola London Eye on the River Thames.
More than 3,000 people, from pyrotechnicians to stewards, work together to ensure that the capital's celebrations run smoothly and are the most dazzling on the planet.
The renowned pyrotechnic and lighting display will feature more than 12,000 fireworks, 2,000 lighting cues and 30 tonnes of equipment on three barges.
While Big Ben's famous 'bongs' have fallen silent during vital renovation works this year, the unmistakeable bell will sound to kick-start the fireworks, ringing in the New Year in true London style.
As well as being enjoyed by more than 100,000 spectators in the viewing areas, the display is watched by over 12 million broadcast viewers on TV, promoting London as global capital of tourism and culture.
For those without a ticket, the event can be watched on BBC One and there are also hundreds of other opportunities to bring in 2018 in style at bars, restaurants, pubs and clubs across the capital.
Those without a ticket will not be able to enter the viewing area.
Demand is always extremely high with visitors travelling from around the world to witness this incredible display.
The mayor of London, Sadiq Khan, said: "London is the greatest city in the world and our amazing fireworks display on the banks of the River Thames cannot be beaten.
"Visitors will witness an extraordinary display, showing that London is open for business, outward looking and open to all people from across the world.
"My number-one priority is the safety of all Londoners and, as always, the police and emergency services will be working closely with organisers to ensure the evening's festivities run smoothly and are safe for everyone to enjoy."
For updates and information about how to book tickets head over to the official website.
You can read more of the news on source