Canada's icon of modernism, CN (Canada's National) Tower, presents a modern perspective on a traditional theme in REGALIA – Native Pride, an exhibit featuring 30 large format portraits of individuals from 14 different First Nations.
Vibrant, colorful and most of all contemporary, the pictures demonstrate how Canada's Indigenous people are not anachronisms, not locked in a past unable to look forward, but how they are essential members of a modern Canada who marry their traditions to the present day.
The portraits are the work of photographer Roland Lorente, who along with his partner, Aline Saffore, spent five years traveling more than 6,000 miles throughout eastern Canada, attending over 20 Pow Wows. The portraits of the Pow Wow dancers, chosen to demonstrate the diversity of First Nation people, are joined in the exhibit by Lorente and Saffore's observations after encountering the men, women and children photographed.
A goal of the exhibition is to shift perceptions of the Pow Wow tradition and examine contemporary dimensions of native identity and pride. Not another look backward through sepia-tinted pictures at the way life used to be for Native people, REGALIA informs the way life is for Canada's First Nations.
The exhibit's display at Toronto's CN Tower, setting to hundreds of our global culture's most contemporary photographs each day—selfies published to Instagram, Twitter and Facebook—makes for the perfect setting to reinforce this message.
"The contrast between the modern dress and traditional regalia from Pow Wows is as diverse as our visitors—different nations, traditions and styles," Manager, Marketing and Communications for CN Tower Patrick Leavey said.
Canada's indigenous tourism website defines a Pow Wow as, "ceremonial celebrations of cultural pride for all ages and (to) provide an opportunity for Indigenous communities to gather together, to celebrate, to commemorate and to learn from each other."
Pow Wows showcase the music, dance, regalia – clothing, jewelry, adornment – food and craft of Indigenous people.
"We are very excited to host this photography exhibit, providing our guests with an opportunity to enjoy the culture and history of our Indigenous peoples," Chief Operating Officer of CN Tower Neil Jones said. "REGALIA is an exhibit that all our guests from around the world will enjoy. I invite Torontonians and Canadians to take this opportunity to visit the CN Tower and enjoy these inspiring, powerful images."
Separate of REGALIA, there has never been a better time to visit CN Tower. A $16 million renovation of the landmark's main observation level, where REGALIA is on display, was completed in the summer of 2018. The renovation represents the most significant enhancement to CN Tower since its opening in 1976.
"Our space has been completely transformed—big, bright, airy with a modern feel that all guests will enjoy," Leavey said. "The newly-renovated main observation level was designed to modernize and enhance the guest experience while providing truly universal access; the 'Window Walls' enable children and people with mobility challenges to fully enjoy the breathtaking panoramic views of Toronto."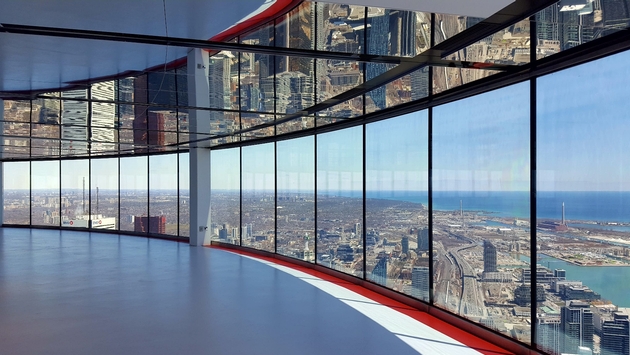 The new floor-to-ceiling glass "Window Walls" were installed across three separate sections of the observation level, providing near seamless unobstructed panoramic views. Also added was a new glass floor directly above the original, providing a dramatic, two-tier, vertical view, 1136 feet towards the ground.
A highlight of any visit to CN Tower remains dining at 360 The Restaurant while enjoying its revolving view from over 1100 feet. During the run of REGALIA, an Indigenous-themed menu has been created by 360's Executive Chef John Morris and award-winning First Nation Chef David Wolfman. Offerings include bison tenderloin, coho salmon tartare, wild garlic and mushroom bannock, wapiti (elk) and skillet roasted Arctic char.
REGALIA runs through March 31 and admission is included with any CN Tower observation ticket or for diners at the 360 The Restaurant.
You can read more of the news on source