If you dream of a place where you can try any style of wine imaginable along with a variety of delicious foods, you need to head to Wine Bar George at Disney Springs. As the only master sommelier-led wine bar and restaurant in Florida, you're certain to find something for everyone among the hundreds to choose from.
When you first walk in you'll find a first-come, first-serve bar. Beyond that, a beautiful staircase leading up to the second floor of the restaurant. Divided into three parts, the first section is a more casual place for family and friends to relax, the second has panoramic views of Disney Springs and the third is a beautiful outdoor patio. If nice weather is in the forecast, be sure to take full advantage of the outdoor seating.
Once you're seated you'll be handed a menu that includes the extensive 140-plus offered wine list. Deciding what to order can be quite daunting, but don't fret, the waitstaff is incredibly knowledgeable! Just let your server know what you typically enjoy and they will be happy to help with suggestions.
One of the best things here is the wine flights. Fully customizable, you can select three different pours from the menu, whether you're looking for white, red, a wine from a specific region or just a mix of everything.
Wine Bar George is named after master sommelier George Miliotes. If you're lucky enough to be here when the restaurant's namesake is around, you are in for a real treat! Extremely knowledgeable in his trade, George has a passion for sharing the many ways a meal can be transformed with a great glass of wine and how different types are made.
If you love champagne and sparkling wine, you're going to want to try the DIGBY Brut from Sussex, England. One of the more interesting facts about this Brut, according to George, is that the chemical makeup of the soil where the grapes are grown is the exact same as the soil in France where champagne grapes are grown. So while DIGBY Brut cannot technically be called champagne, it has a lot of the same characteristics.
Another interesting fact about the restaurant—it's one of the very first to have wine on tap! If that doesn't draw you in, nothing else will. While you might think that having a glass of wine from a beer tap might ruin the taste, that is certainly not the case.
Each of the drinks on tap are hand selected by George as some of his favorites to serve to guests. If you love rose, be sure to try the Sabine from France. Not only does it go well with all of the offered appetizers, but the $9 price tag is the best part!
As for the food, everything on the menu is meant for family-style sharing, ranging from small plates and charcuterie boards to meals meant to serve two to four people. Menu favorite whole sea bass is served on a platter with vegetables and cannellini bean ragu. If you're just looking for something to pair with your wine, the big board is a fantastic mix of artisanal cheese, meats and accompaniments.
Don't worry if part of your group includes kids, there's plenty of options the little ones will love, including chicken skewers and crispy mac and cheese bites!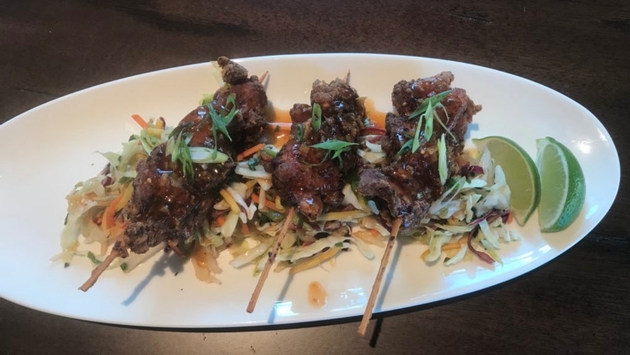 The restaurant is open for lunch and dinner starting at 11:00 a.m. until midnight or later, depending on the day of the week, with lunch service ending at 3:00 p.m. Choose from their full dinner menu or a small, but delicious, selection of lunch options that include your choice of a chicken salad sandwich, a BLT sandwich or steak-frites.
You can read more of the news on source