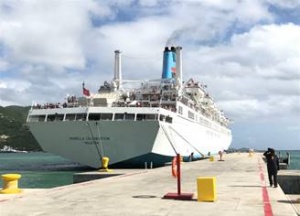 Tortola Pier Park was a hive of activity earlier as the British Virgin Islands received their first two official cruise ship calls of the season with the visits of the Marella Discovery and Marella Celebration, respectively. 
The ships brought a combined total of about 2,800 passengers to the territory.
A welcoming committee was on hand to greet and provide information for cruise passengers as they disembarked and entered the port facility.
Many of the visitors remarked that, although they were aware that the British Virgin Islands was impacted by the recent hurricanes, they wanted to disembark to support the local community, this was their way of helping the community to recover.
Visitors browsed the 25 or so retail outlets at the Tortola Pier Park with enthusiastically received them.
Additionally, destination hosts from the British Virgin Islands Tourist Board and ambassadors from the British Virgin Islands Ports Authority and Tortola Pier Park provided information to the guests on the sites and attractions that were open for their enjoyment during their visit.
Several of the guests went to the Long Bay beach on Beef Island and the Baths National Park on Virgin Gorda, which recently reopened for the tourism season.
The ships were formally welcomed by a government delegation led by the premier Orlando Smith.
Director of tourism, Sharon Flax-Brutus, commented: 'It is exciting to welcome the cruise business back to the territory and even more encouraging was the positive feedback which we have received from visitors.
"They stated their admiration for the resilience of our residents and our commitment to rebuilding our tourism industry and territory.
"The guests were only directed to the locations and establishments that were open and had the facilities to safely host them.
"We know that there is still a lot of work to be done but this is ongoing, and we expect more places to be ready to welcome guests on the next cruise ship calls to the territory."
You can read more of the news on source