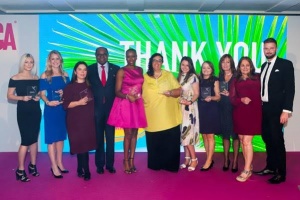 For the second year running, the Jamaica Tourist Board hosted its own tradeshow, Jamaica Travel Market, at the Luton Hoo Hotel, Golf & Spa.
The two-day event focused solely on the island and again provided the ideal business-to-business platform for British tour operators and agents to meet with Jamaican suppliers and partners directly.
They were also given the opportunity to speak directly with Jamaica's minister of tourism, Edmund Bartlett, who shared the island's exciting resort developments and new investments.
The tradeshow was a roaring success following on from its inaugural event in 2016.
One of the highlights was again the gala awards dinner where Bartlett told delegates that he aims to attract 300,000 UK visitors a year from the UK and become the leading Caribbean destination for UK tourists.
The dinner also honoured some of Jamaica's top performing tour operators.
Talking from the event, Bartlett said: "Jamaica Travel Market continues to grow from strength to strength which comes towards the end of a very positive year for us.
"We are on track to be up five per cent in the previous year and this is a result of the efforts of our valued stakeholders.
"It is always great to meet the key individuals who play such an important role in driving tourism to our great island."
He added: "It is also important that we regularly come together to strategically identify what the consumer passion points are and what drives people to Jamaica so that we can deliver these things to them.
"The key objective remains to achieve a seamless approach so that our visitors know exactly where to visit when they come to Jamaica and how to get there."
Bartlett continued: "As well as Jamaica Travel Market, Jamaica will soon be at the centre of the tourism industry as the island will be host to its first ever global conference at this year's UNWTO from November 27th-30th.
"The event will bring tourism partners together in how we can make the industry more impactful and sustainable."
You can read more of the news on source