California is known as wine lovers' paradise, spanning huge areas across the state. Although many wineries saw a decrease in tourism over the last year due to wildfires, California's Wine Country is better than ever now.
Napa Valley and Sonoma may be the most well-known, but even within these two areas, there are hundreds of wineries to see. So treat yourself with one of these unique ways to see and experience the area.
Bike Tours
Join Trek Travel on one of their signatures bike tours through renowned wineries and more. On the California Wine Country Explorer, visitors can book a full week's worth of bike tours, so those extra wine calories won't even count! The tour includes accommodations, two experienced guides, your bike, entrance fees and more!
On this tour, guests will get to ride through Napa Valley into Calistoga, visit Healdsburg's new Alley 6 Craft Distillery, and explore the redwoods at Armstrong National Park.
Train Tours
The Napa Valley Wine Train is a great way to see the area. As an added bonus, there is a dome car that provides elevated and panoramic views of the passing scenery, and a kitchen on the first level offers gourmet meals to hungry guests. Renovations on the train cars started earlier this year and promise guests the finest rides around.
The Napa Valley Wine Train offers multiple experiences including a Tequila Train, half day or full day winery tours and even a Murder Mystery tour.
Boat Tours
Maybe a luxury cruise is more your style? If so, join WineCountry on their 50-foot Catamaran for the Winemaker Cruise on the Wine Yacht, where guests will enjoy a three-hour boat ride on the Napa River. There is also the option for a four-course meal and wine pairings on board.
Hot Air Balloon Rides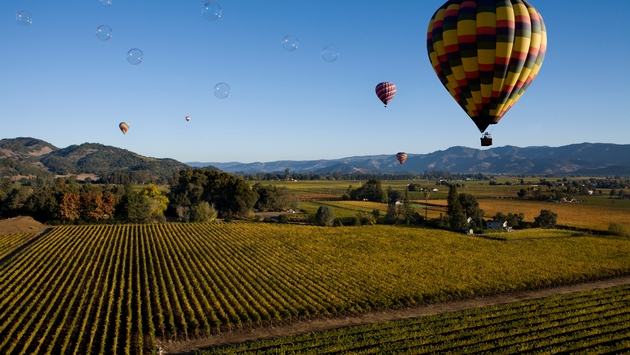 If you're looking for an adventurous way of seeing the area, try one of the hot air balloon tours and get an amazing aerial view of the spectacular landscape. Just note that most of the tours launch early in the morning due to more favorable weather conditions.
Napa Valley offers something for everyone and is a great place to unwind. For more ideas on visiting Wine Country, be sure to check out this article.
You can read more of the news on source