Preparations are underway for the Tourism Resilience Summit of the Americas, which is scheduled to take place at the University of the West Indies, Mona, Jamaica, on September 13th.
Minister of tourism, Edmund Bartlett earlier announced its headline speakers, who are expected to share their industry leading opinions and experiences on climate challenges and crisis management.
The list of speakers includes the prime minister of Jamaica, Andrew Holness; professor of crisis and disaster management at Bournemouth University's Disaster Management Centre, Lee Miles; director of the Sir Arthur Lewis Institute of Social and Economic Studies, professor Aldrie Henry-Lee; and director of Disaster Risk Reduction Centre at the University of the West Indies, Barbara Carby.
"I am very pleased with the fact that Jamaica is playing host to this very important event, which we expect to have a positive and meaningful impact on building better global resilience of our industry.
"Our country aims to lead the way in providing guidance to our neighbours by helping in any way we can to provide leadership in critical areas of managing global disruptions," said minister Bartlett.
The resilience summit, which is to be held under the theme of Tourism Resilience through Global Synergies, will seek to assess existing and emerging disruptions related to tourism management globally.
It will also examine the risk of these disruptions to the global tourism product and identify a synergetic, strategic and operational framework for mutual partnerships between and among major governmental, non-governmental and business entities.
This will address, as well as, develop mitigation strategies for these global disruptions.
"This summit forms part of my ministry's efforts to build resilience within the region and globally.
"Resilience building has become even more crucial in a world that is hyper connected and as such more susceptible to climate change, epidemics and pandemics, terrorism and cybercrime," Bartlett added.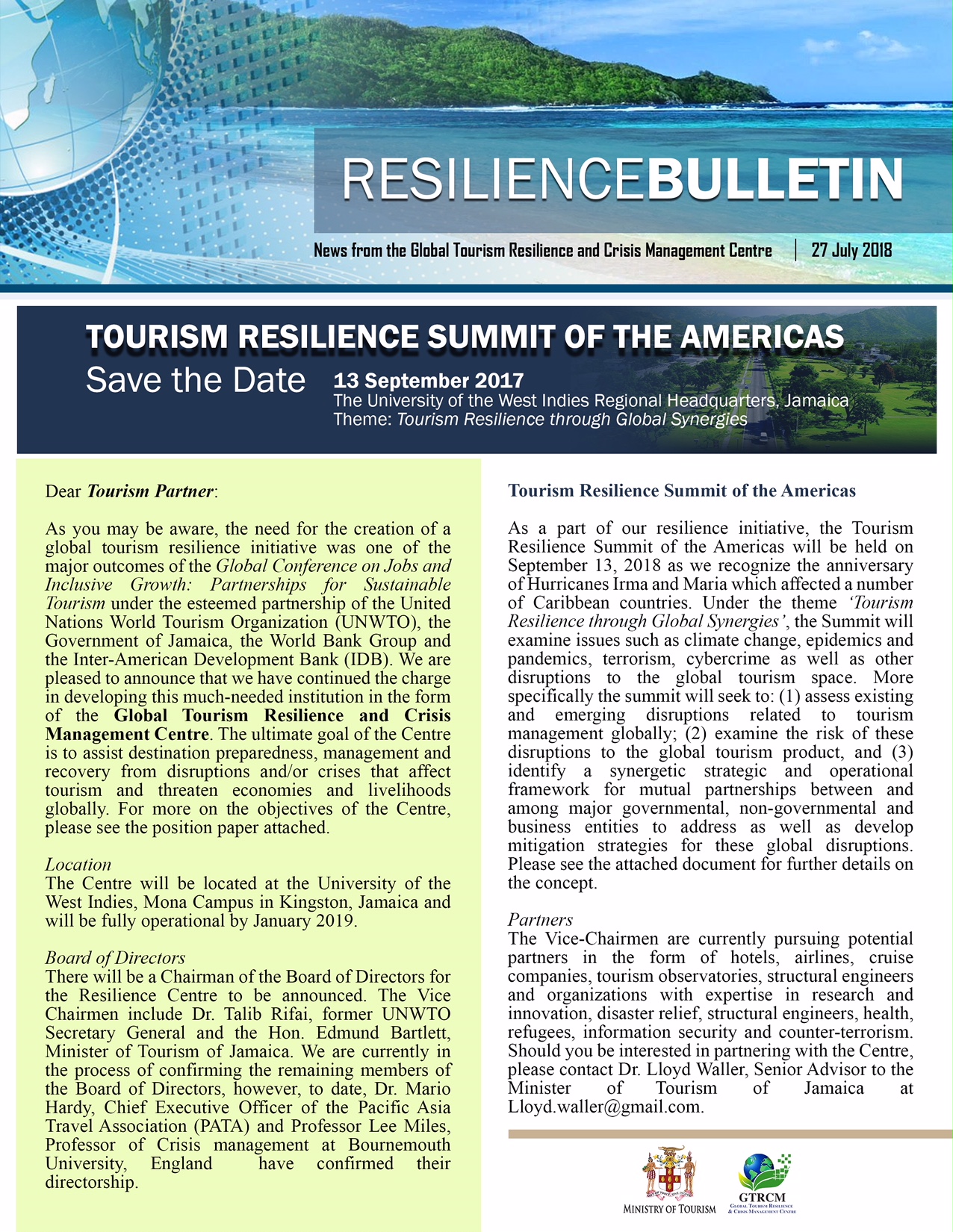 Other speakers who will be facilitating on-going dialogues at the summit include the former United Nations World Tourism Organisation secretary general, Taleb Rifai; chief of the United Nations Office for Disaster Risk Reduction, Raul Salazar; and the director of the National Travel & Tourism Office, United States department of commerce; Isabel Hill.
British high commissioner to Jamaica, Asif Ahmad, will also address the audience.
Minister Bartlett also disclosed that the summit will specifically explore themes such as developing awareness and sensitisation strategies; designing capacity building programmes; resource mobilisation; development of crisis management systems; development of risk reduction systems; communication management; building global networks for tourism resilience; and recovery management planning.
The summit is a precursor to the official 2019 launch of the Global Tourism Resilience & Crisis Management Centre which will be the global hub to assist destination preparedness, management and recovery from disruptions and/or crises that affect tourism and threaten economies and livelihoods globally.
The centre was one of the major outcomes of the Global Conference on Jobs & Inclusive Growth: Partnerships for Sustainable Tourism hosted under a partnership between the UNWTO, the government of Jamaica, the World Bank Group and the Inter-American Development Bank last year.
It will also be housed at the University of the West Indies, Mona campus.
More Information
Under the leadership of tourism minister Edmund Bartlett Jamaica has become the central voice in regional hospitality and has recognised as the Caribbean's Leading Destination by voters at the World Travel Awards.
Find out more about visiting the destination on the official website.
You can read more of the news on source