When I talk about Lake Erie's islands, many people from other parts of the country are surprised at their existence. And the obvious questions start—How many are there? Where are they? Are they big? Does anyone live there?
Lake Erie has about 30 islands, with almost all of them clustered in the far western basin of the lake. Although a dozen or so are inhabited, there are five larger islands where most visitors congregate. The most famous of these is South Bass Island, with its bustling downtown area, a city called Put-in-Bay.
Our family took a weekend getaway to check out what's new around Put-in-Bay. The island is extremely popular with residents of Cleveland and Detroit, but you'll also see cars on the island from further afield, from Kentucky or Indiana.
There are a couple of ferries that provide direct access to the island. The Jet Express leaves from Sandusky and Marblehead, Ohio and Miller Boat Line leaves from nearby Port Clinton. Marblehead and Port Clinton are each about 75 miles west of Cleveland, while Sandusky lies 10 miles closer.
The Jet Express is a faster boat, but its docks are further from the island. Miller, which we took, takes a shorter route, landing at the southern end of the island (instead of at Put-in-Bay, on the northern end). But Miller allows vehicles on its ferries.
Speaking of vehicles, cars really aren't necessary on the island, as there are both bikes and golf cart rentals available. In fact, golf carts seem to far outnumber cars on South Bass. That makes sense, as the island is about 2 miles wide by 3 miles long and is very easy to get around.
We stayed at the lovely, newer Put-in-Bay Condos, located just north of the island's small airport, and set right on the lake. Each unit is a four-bedroom affair, with a full kitchen, two bathrooms and a lovely deck overlooking the water. Our son loved his lower level bedroom that faced the lake, as he could open his window and hear the waves while falling asleep.
So, what to do while island-side? Your first stop will be obvious.
Crowning the island is the magnificent 352-foot tall Perry's Victory & International Peace Memorial. This island skyscraper—the world's largest Doric column—commemorates the Battle of Lake Erie, which took place nearby. The battle was one of the most important in the War of 1812 between the United States and Great Britain.
Run by the National Park Service, a mere $7 gives you access to the elevator that takes you to the monument's top, which features an outdoor observation deck.
It is billed as the largest open-air observation deck in the U.S. and affords lovely views in every direction. You'll get a great overview of downtown Put-in-Bay, as well as the neighboring islands. And you'll see the Canadian shore in the distance.
We enjoyed some good food in town. Lunch at Topsy Turvey's gave us a nice harbor view while enjoying wonderful Perch sandwiches. And dinner at Put-in-Bay Brewery & Distillery hit all the right notes. The chicken bacon ranch pizza was a huge hit, as were the burgers and the Mac & Jac Brewery Bites appetizer.
We also liked the vibe of the restaurant—you could sit deep inside and enjoy the rustic woodwork and hanging lights, or pick a table outside near the bar and people-watch. Not being beer drinkers, the brewery was lost on us, but we heard lots of positives on the selection available.
Speaking of drinking, Put-in-Bay can surely be party central on summer weekends, thanks to the dozens of bars spread out through the downtown area. In fact, the island is a nice mix of the Key West party scene and a more laid-back New England charm—it's up to you what to focus on.
We did a tour of Heineman's Winery, located in the island's center. The $8 tour includes a short venture down into the world's largest geode, Crystal Cave. The geode was discovered by workers in 1897 while digging a well.
You actually descend about 40 steps into the ground, and the experience is pretty strange—all the whitish crystals above and around you are 14-sided and are as large as 18 inches long.
After climbing back to ground level, we ventured into the small 130-year old winery, which is Ohio's oldest family owned winery. The business focuses on native grapes, such as Concord, Catawba, Niagara and Delaware. If you like sweet wines, try the Pink Catawba, which is a popular regional wine—it's somewhat similar to a White Zinfandel.
There's plenty of more to do on the island, as well. There's a multitude of shops, from clothing stores to nautically themed boutiques.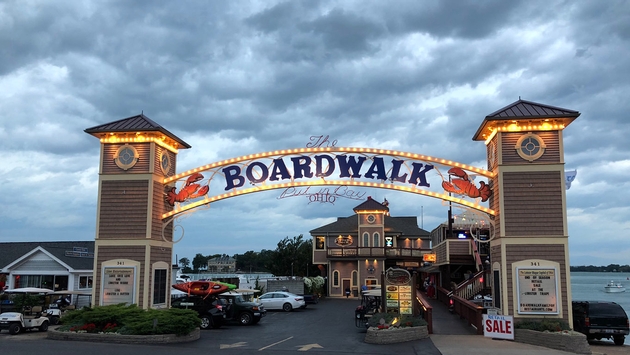 Or hang out in one of the island's many parks, including DeRivera Park in downtown, South Bass Island State Park, and the Scheeff East Point Nature Preserve at the island's northeastern tip. South Bass' lighthouse is open for tours, and there are museums such as the Lake Erie Islands Historical Society and the Lake Erie Islands Nature & Wildlife Center to explore.
Put-in-Bay can make for a lovely weekend getaway or a great week's vacation. It's a nice choice for families or couples, and it can be as loud or as quiet, busy or laid-back as you'd like.
What's more, it's largely unknown outside the Midwest, so it stands as a great new place to discover for much of the rest of the country—and it comes highly recommended from our family.
You can read more of the news on source